WSaM 62 - WandaVision
a month ago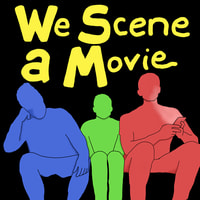 WSaM 62 - WandaVision
A review of the full season of the (first legitimate) MCU television series. Brought to you buy a hater, a lover, and Richard. SUPPORT THE CAUSE
Timecodes:
Round Table
1:10 - Paramount Plus
5:02 - SNL is better now than ever before in our lifetime?
9:55 - MCU directors & actors unable to break out
Main Topic - WandaVision
14:41 - Spoiler Freeze
23:17 - Spoilers (FINKLE IS EINHORN)
Shout Outs
56:23 - Our Friend
58:22 - WandaVision on Spotify & Colin Jost's book
1:00:30 - The Silk Road
Follow Us (if you like)
Instagram
Email Us!
Get the Podcast Logo on a shirt! (or mug, or notebook, or some stickers)
...or just tell a friend about us if you think they would enjoy listening.
Find out more at https://we-scene-a-movie.pinecast.co